Innovative broadcast companies honoured at Asia-Pacific Broadcasting+ Awards 
SYDNEY, 14 June 2023 – The recent Asia-Pacific Broadcasting+ Awards celebrated excellence in the broadcasting industry in the areas of technology, digitalisation and engineering. At this year's awards the winner of the Innovation Award for Cinema Direct 5G – Australia went to Telstra powered by Silver Trak Digital.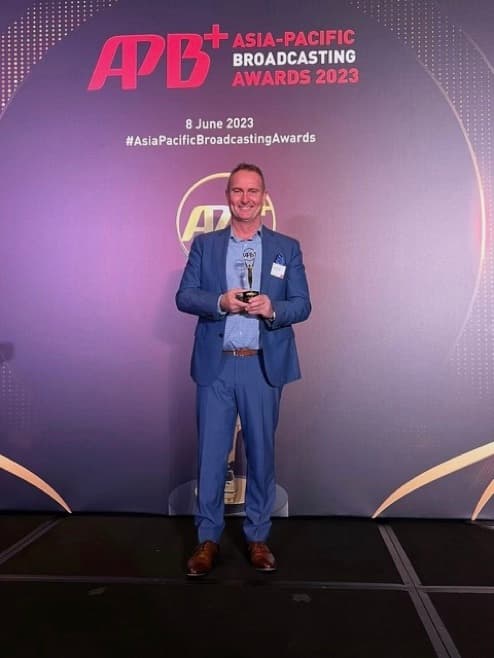 Silver Trak Digital COO, Christian Christiansen, said, "It is a great honour to win this prestigious award and along with Telstra, to be recognised for the true innovation represented by our Cinema Direct content delivery service – Australia's fastest, most robust and most secure delivery of digital content over 5G for cinemas, content distributors and movie studios."
The broadcasting industry is undergoing a significant transformation as traditional television and radio coexist with digital streaming services, social media, and mobile content consumption. On top of this, broadcasters also have to consider evolving technologies and shifting consumer preferences. Whilst these changes present a myriad of challenges, they also offer numerous opportunities for growth and innovation.
The rise of over-the-top (OTT) platforms, virtual reality (VR), augmented reality (AR), and artificial intelligence (AI) is changing the way consumers interact with media. Broadcasters have to continue innovating and adapting to leverage new technologies and remain competitive.
By leveraging Telstra's next generation 5G cellular technology, Cinema Direct presents an enterprise grade wireless content delivery solution suitable for any distributor and cinema in Australia.
The Cinema Direct platform is being rapidly deployed by Telstra, TBS and Silver Trak Digital, with over 200 cinemas to be connected across Australia in the next two months.
For more information on the new Telstra Silver Trak Digital 5G Cinema Direct Solution go to: https://cinemadirect.com.au