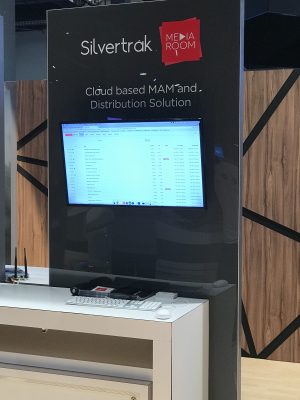 Silver Trak were again in 2018 asked to co-locate with Aspera at the NAB show to represent the array of media industry services for which Silver Trak has become known.
Alongside professional industry services such as Broadcast Duplication, Technical Assessment (QC), Audio Conversion, Digitisation, DC mastering and others, the flagship service Media Room (asset aggregation and management) has captured substantial attention from the industry over the last couple of years.
The simplicity of use and tailored functionality has provided a secure, feature rich asset management platform removing the burden of building or managing in-house technology from content creators.
As a Media Asset Management system it provides all the power and features of the bigger systems at a fraction of the cost and is still capable of modification to suit specific client needs.
"The goal of Media Room software programming was to take away the techno vagaries and provide users with a common sense point and click functionality for content management. Yes you can pay for bigger, fancier systems and then spend your time trying to learn how to navigate the functions; half of which will probably never be used. Media Room was designed in discussion with our customers and reflects what they need" said Christian Christiansen, COO Silver Trak Digital.
The NAB Show in Las Vegas is the largest broadcast and technology show worldwide and boasts some 100,000 visitors passing through the exhibition centre doors over the five days of conference and exhibition.
The next show on the calendar will be Broadcast Asia – Singapore, which though not as big is significant in the Asia Pacific region and again Silver Trak and Media Room will be on display – come and visit us at the Aspera stand.
Better still find out more now by clicking on the below link about how Media Room can give you the freedom to manage your content.